Top-Contributor
TOO Sponsor Vendor
TOO Advertiser
Joined

May 15, 2018
Messages

549
Location
Country
Tesla Owner

Model 3
Our Sports AWD Coilovers are back-ordered due to high demand. We recommend placing an order to reserve your set, we have been unable to keep any kits on the shelf since their release.
These are quickly becoming our most popular product yet. Adding more power without equivalent braking and handling has left the Dual Motor/Performance/P+ Model 3 in a tough spot compared to its rivals like the BMW M3. We aim to resolve every weakness with the Model 3 and make it the sports car it deserves to be, and one of the best ways to do that is with our suspension upgrades. You will gain precision handling without any compromise to ride quality, we wouldn't settle for less!
The ultimate in street and track performance.
Made in Germany,
ask our competitors where their kits are made!
We're extremely excited to bring you our jointly developed MPP / KW Coilovers. A partnership between MPP and KW Suspensions, we have designed the very coilovers we dreamed of and KW has made them a reality. We had the opportunity to work with a number of different suspension manufacturers but went with KW as they have always been the damper of choice for us on road cars. Incredible ride quality, huge adjustment range and built for the long haul. We've developed these dampers on some of the best roads in the country, and we can assure you that these coilovers exceed the quality and performance of anything even remotely close in cost.
Specially designed to provide the highest quality driving experience, no drawbacks such as a harsh ride or noises.
Rebound adjustable, with significant and noticeable changes with every click. Unlike some adjustable coilovers that claim to have many clicks or a wide adjustment range, these coilovers have true motorsport damper technology and the adjustment in the low-speed range is over 300%!
Compression adjustable, with significant and noticeable changes with every click. Full soft to full stiff compression is over 350% difference in forces at some damper speeds.
Spring rates designed for sports road driving. With the compression and rebound adjustment turned down the ride is more comfortable than OEM suspension.
Height adjustable from 10mm below factory ride height down to 60mm below factory.
Stainless steel bodies for optimal corrosion resistance and durability
Progressive bump rubbers tuned to engage only in the most aggressive compressions while keeping the chassis composed.
Utilize the OEM upper hats for minimum NVH transmitted into the cabin. No spherical bearings to clunk and transmit road noise!
Bolt-in installation. A competent shop can have these coilovers installed in 3.5 hours.
Fits these vehicles: Model 3 Dual Motor, Performance, Performance w/ PUP
WE USED THIS EXACT KIT FOR OUR RECORD SETTING LAP OF LAGUNA SECA!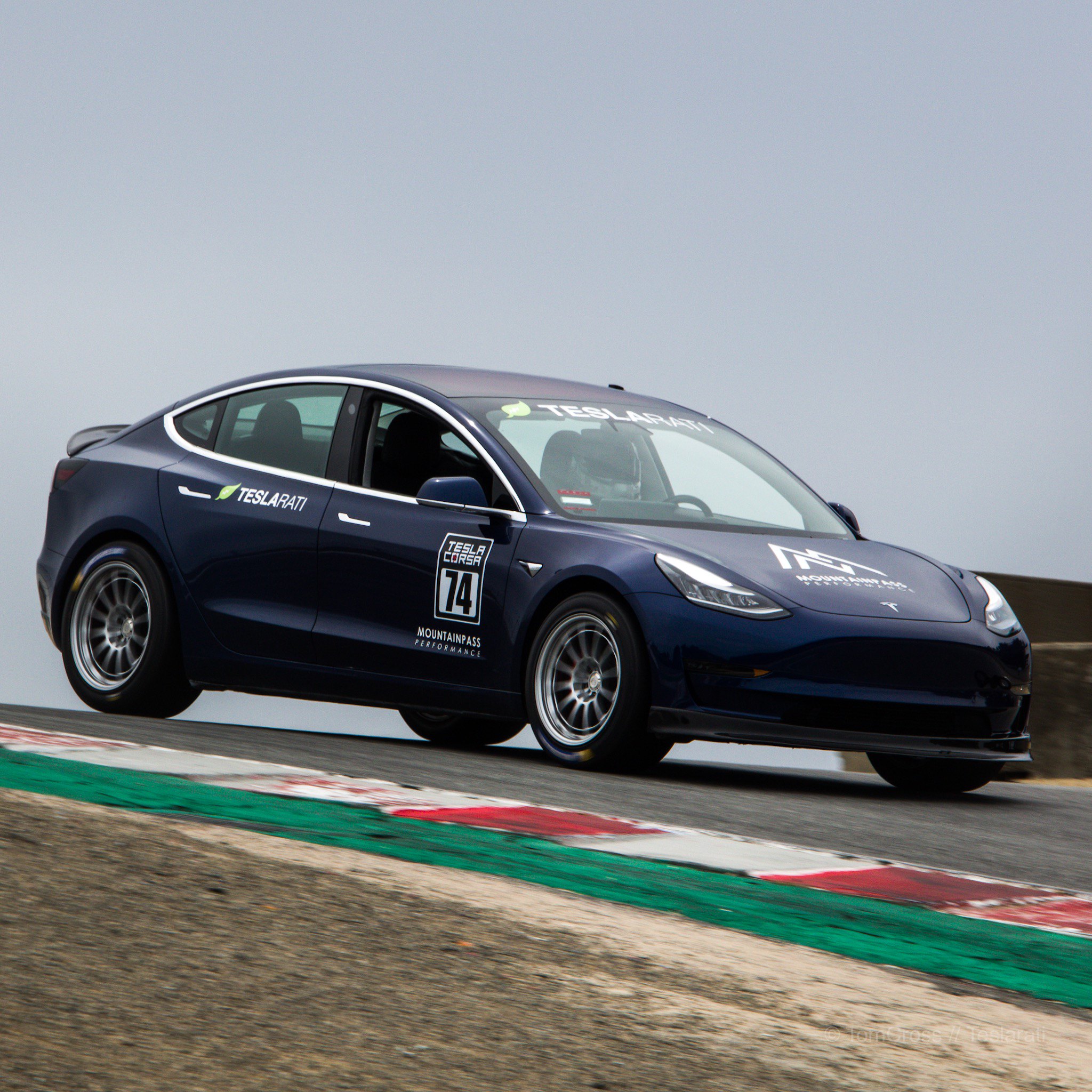 Last edited: