Above:
Chevrolet Bolt
Bottom:
Hyundai Kona EV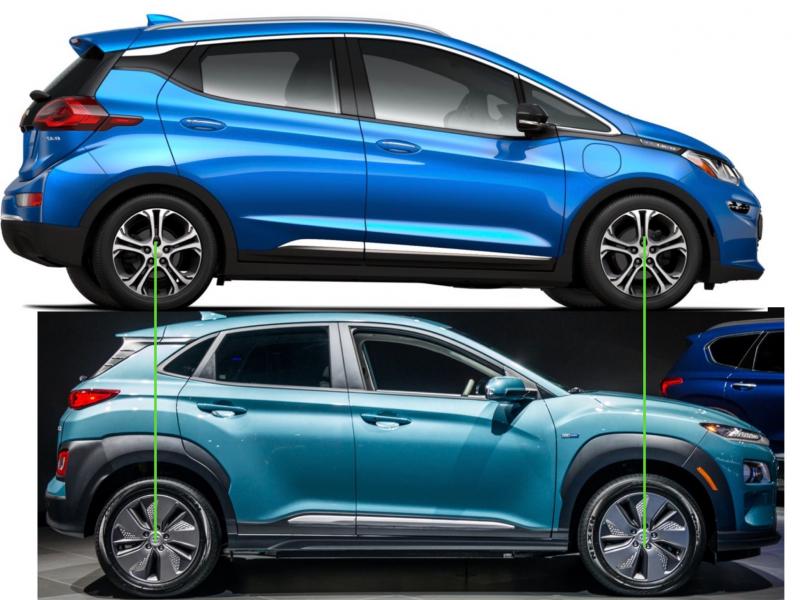 (Image from user Cypress at Electrek)
Both vehicles are almost identical in size. But notice how much less room for passengers and cargo the Kona has, due to the hard-to-utilize space in the "engine compartment". That engine compartment effectively pushes back the driver's seat, which has a knock-on effect on everything behind it. The net result is that Kona is very small inside.
Also, while they tried to compensate for drag (note, for example, the aero wheels, which Bolt doesn't have; they also have some limited horizontal rear taper), Kona's aero is compromised compared to the Model 3. Despite Kona being a smaller vehicle, Model 3's EPA highway efficiency is 11% higher. Their city efficiencies are almost identical - despite Model 3 having much more interior space - because their weights are almost identical, despite Model 3 LR having a somewhat higher capacity pack.
Structurally, the front end is designed to crush on the assumption of having a relatively incompressible engine inside it, so it can't take proper advantage of all of that extra space.
On the underside, the Kona's pack juts out awkwardly from the vehicle (because they had nowhere else to put it) and just looks like it wants to catch on something. In practice, it's probably not as bad as it looks - they've lifted vehicle relatively high off the ground for a "city car", and the measured clearance is reasonable. But it certainly looks exposed. The frame just wasn't designed for a battery pack.
Let's all say it together:
"EVs should be built on platforms that were intended from the beginning to be for EVs."
Last edited: